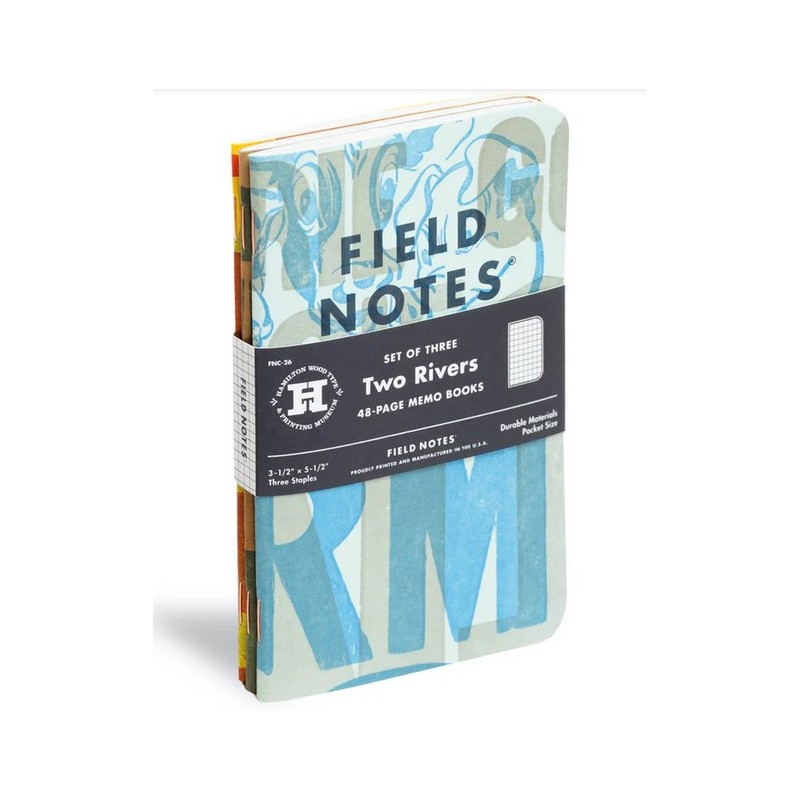  
Field Notes: Two Rivers (Spring 2015)
Printed 3/15, Edition size: 25,000 packs. COLORS edition #26 benefits Hamilton Wood Type & Printing Museum with a variety of hand-set wood type designs in a variety of colors on mixed French papers. Our standard graph paper is inside, bound with three copper staples.

Delivery policy
Options presented upon check-out for 1-3 day delivery
OUT-OF-PRINT. Usually this is priced around USD20.00 to as high as USD30.00 (based on recent eBay closed auctions but selling at cover price with imperfections.

Condition: BRAND NEW FACTORY SEALED. HOWEVER it seems the copper staples shows corrosion/patina which may affect inside pages. The notebooks are properly stored with silica gel packets but based on our experience some type of staples can't seem to take the Philippine weather. Corroded staples shown in one image.

For personal use I believe this "aging" shouldn't be an issue. Not recommended as a gift unless for true collectors. This information is provided to properly disclose the condition of said product.

Set of 3. Each book measures 3-1/2" wide by 5-1/2" tall.
FIELD NOTES loves printing, history, Americana, and a good Wisconsin brandy old-fashioned, so the Hamilton Wood Type & Printing Museum is our kind of place. We reached out to our friends and neighbors at French Paper Co. of Niles, Michigan, who are also big fans of the museum, and they gladly agreed to help.


After months of planning and several trips north, our love for the museum and the town grew even greater, and we couldn't be happier to support their work with our 26th COLORS limited edition.


French Paper supplied four cover stocks for these books: Pop-Tone 100#C "Lemon Drop" and "Sno Cone," Speckletone 100#C "True White," and Dur-O-Tone 80#C "Packing Brown Wrap." We hand-set several designs using Hamilton's collection of vintage type and ornaments. Hamilton then printed our designs in two random colors on a 1961 Heidelberg GT 13"×18" windmill press. Randomizing the designs, papers, and colors resulted in thousands of variations. Further variations were introduced thanks to the nature of wood type, letterpress printing, and the music playing in the print shop during the 200+ hours on press.


Back in Chicago, our logo and specifications were added with a hit of "Broadside Blue-Black" ink. Then the books were bound with 48 pages of Finch Opaque Smooth 50#T featuring our "Double Knee Duck Canvas" graph grid. Three copper staples hold 'em together. As always, they're all-U.S.A.-made, with a lot of love from the shores of Lake Michigan.
Customers who bought this product also bought: