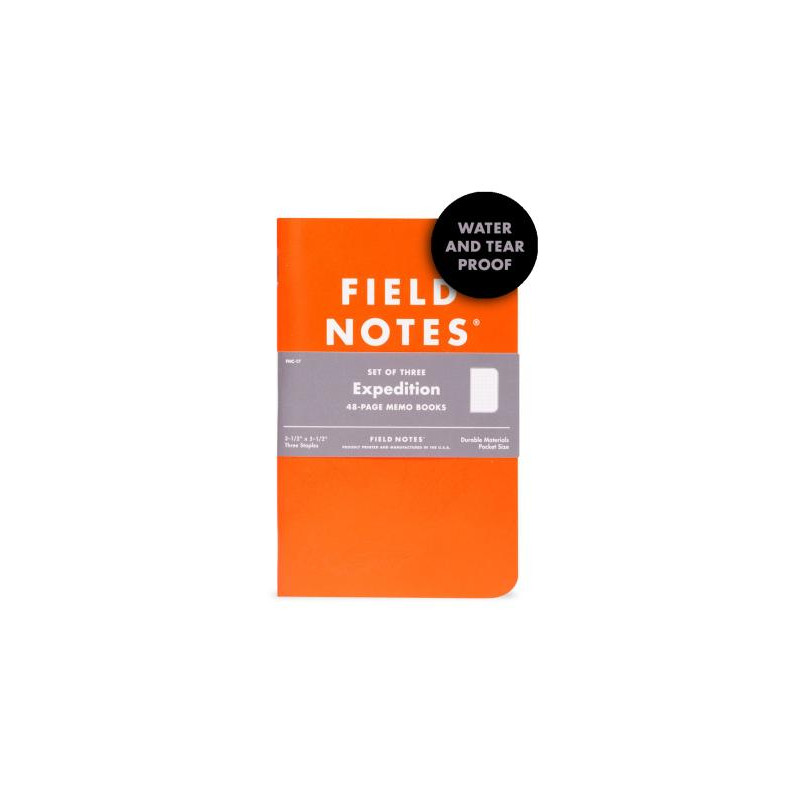  
Field Notes Expedition Edition
This edition features a durable and almost invincible Yupo Synthetic Paper. 3-pack 48-page Memo Books. Proudly Printed and Manufactured in the U.S.A.

Delivery policy
Options presented upon check-out for 1-3 day delivery
Condition: Brand new, sealed.
MEMO BOOK
Each book measures 3-1/2" wide by 5-1/2" tall and is bound with a rugged three-staple saddle-stitch process. Durable Materials featuring Yupo Synthetic Paper, Pocket Size.
From Field Notes:
Our new "Expedition Edition" features a hi-visibility "Antarctic Survey Orange" front cover and "Polar Night Black" back cover, with a subtle varnish effect featuring a topographic map of Antarctica. The body pages feature our popular 'dot grid' graph paper, printed in light gray.
FNC-17 marks the start of our fifth year of FIELD NOTES COLORS. In that time, we've explored a wide variety of papers, colors, and printing techniques, but with this new "EXPEDITION" edition, for the first time, we've actually expanded the basic utility of our notebooks.
The real innovation here is the paper. It's maybe not even fair to call it paper. The whole book is printed on Yupo Synthetic paper, an amazing water- and tear-proof paper extruded from polypropylene pellets in Chesapeake, Virginia. We could go on and on about our new books' durability and incredible properties and we will, in this series of 12 (reasonably) scientific tests:
TEST 1: WATERPROOF (Pass)
TEST 2: VISIBILITY (Pass)
TEST 3: WIND RESISTANCE (Pass)
TEST 4: BALLISTICS (Pass)
TEST 5: VACUUM (Pass)
TEST 6: TENSILE STRENGTH (Pass)
TEST 7: COMPRESSION (Pass)
TEST 8: ACID RESISTANCE (Pass)
TEST 9: FLAME RESISTANCE (Fail)
TEST 10: EXTREME TEMPERATURE (Pass)
TEST 11: ELECTROMAGNETIC WAVES (Pass)
TEST 12: ELECTRICAL RESISTANCE (Pass)

Please click on this link to view each test.

Months of development and testing were required to get these books just right, and we'd like to thank Yupo for their extensive support, as well as the great printers and ink technicians that pitched in to help.

The majority of our customers may not test the limits of these books, but the map of Antarctica is neither hyperbole nor coincidence. We'll be sending the "EXPEDITION" edition to the South Pole with explorer Ben Saunders as he and his team retrace Captain Robert Falcon Scott's ill-fated journey to the Pole and back, on foot and unsupported, starting in October 2013.

Note: Synthetic paper is nonporous and doesn't absorb ink like our conventional papers. Our new "Expedition" FIELD NOTES are pretty close to invincible, at least by notebook standards, but waterproof paper is nonporous and doesn't soak up ink like most paper. That's good in some ways (no bleeding, feathering, or show-through), but it does limit the writing implements you can use. Regular ball-point pens and pencils work fine, but pens that lay down a lot of ink, like fountain pens, rollerballs, and markers, don't dry as quickly, and may smudge and/or come off on the opposite page (image provided).

Your "Expedition" 3-Pack is wrapped in a bellyband made of the same Yupo paper that's in the books, so (after trying to tear it!) you can test your pens there and see what works best.
Customers who bought this product also bought: