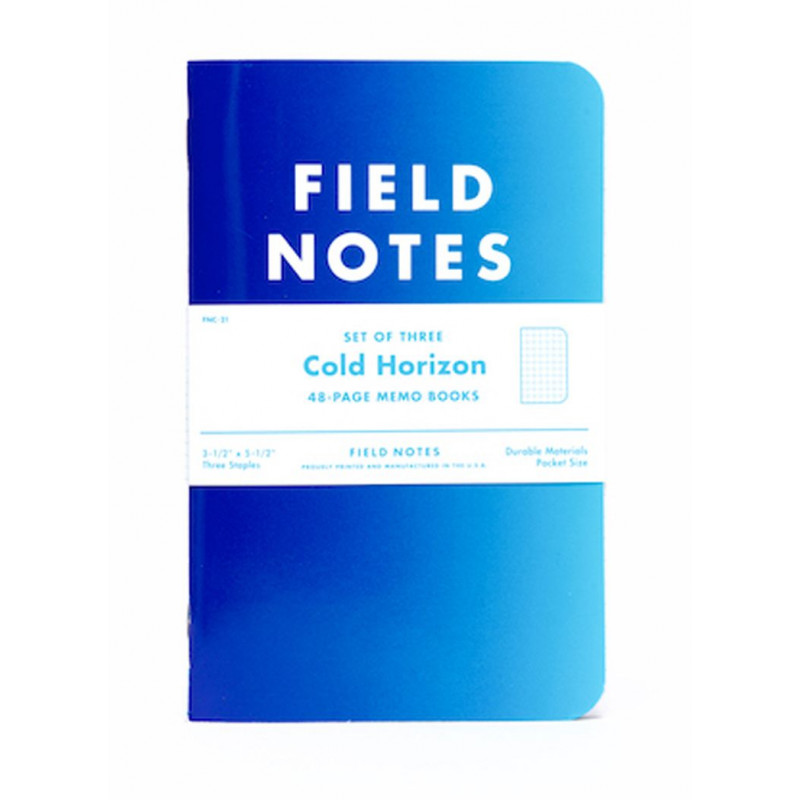  
Field Notes: Cold Horizon (Winter 2013)
Field Notes Winter- Cold Horizon limited edition features a three-color blue gradient spread across three very glossy UV-coated 120-lb Appleton Utopia One covers.

Delivery policy
Options presented upon check-out for 1-3 day delivery
Condition: Brand new, sealed

Graph grid format. Each book measures 3-1/2" wide by 5-1/2" tall.

Like some earlier FIELD NOTES COLORS limited editions, our 21st offering, "Cold Horizon," features three seasonally-inspired colors, but this time we've blended a range of three blues across all three notebooks, invoking the deeply saturated winter twilight sky, fluorescent glacial water, and the shiny metallic glimmer of the Aurora Borealis.

The covers are printed with the blue gradient and white text on a very glossy UV-coated 120-lb Appleton Utopia One stock. The inside covers are the opposite, white with the text (including new "Practical Applications") printed in the same blue gradient. Arranged side by side, or back to back, the blues fade evenly from book to book. Inside, you'll find Finch Opaque 50-lb text stock, tinted a different color in each book — light green, light blue, and cool gray — all with a light gray 3/16" graph grid.