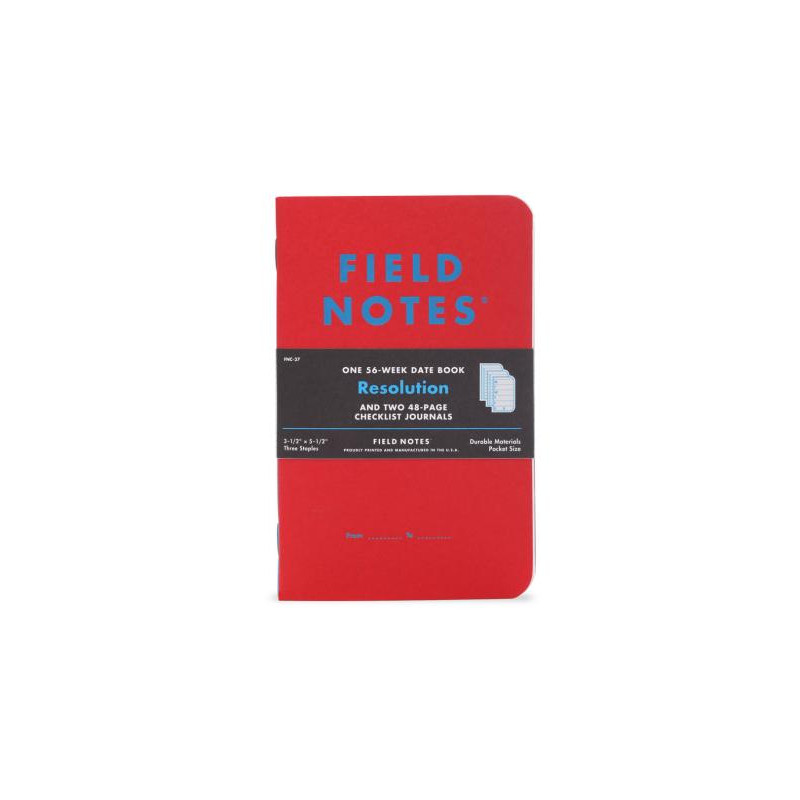  
Field Notes Resolution (Winter 2017)
FOIL-STAMPED COASTLINES. Reticle Grid 3.5" x 5.5", 48 Pages, 3-pack. Field Notes Spring 2018 quarterly limited edition (our 38th!) features two 3-Packs of Memo Books, separated by 2,800 miles. The "Coastal" Edition is a celebration of the left and right edges of the U.S.A..

Delivery policy
Options presented upon check-out for 1-3 day delivery
Condition: Brand new, sealed.
A pocket-sized weekly planner and a "to-do" book rank at the very top of the list of things people have asked us to make throughout the years. The pages are undated so you can use this even after 2018. Each 3-Pack of Memo Books includes one 56-page Date Book and two 48-page Checklist Journals.
The covers are made from bright, beautiful Cyan, Red, and White 80#C Vellum paper from Mohawk, stamped with matte Crown foils.
The inside pages are a very light gray 60#T Domtar Earth Choice printed with white and medium gray inks. The Checklist Journals are subtly ruled with contrasting white/gray blocks and a "Slot Screw-Head Device" at the start of each line for marking completed and partially completed tasks. The Date Book displays one week on each page. Together, the two formats can be used in any number of ways as a complete and portable planning system. There's no single "correct" system for filling in the "screw-heads," we left it as flexible as possible, and we can't wait to see how you use it.

SPECIFICATIONS:

01. Proudly printed by the good people of eDOC Communications, Mount Prospect, Ill.
02. Cover: Mohawk Vellum 80#C "Via Scarlet," "Carnival Stellar White," and "Via Cyan," stamped with Crown Foil by Nu Wave Die Cutting & Finishing, Chicago, Ill.
03. Innards: Domtar Earth Choice Vellum 60#T "Gray," with a fine, 2-color application of "Frost White" and "Winter Sky Gray" soy-based Saphira inks.
04. Cover and innards printed on a Heidelberg Speedmaster xL 105 40" 6-color printing press.
05. Bound with a Heidelberg Stitchmaster ST 270 5-pocket saddle stitcher with cover feeder/scorer & Rima RS 10S in-line stacker, with appreciation to Samuel Slocum, George W. McGill, and William J. Brown, the "Founding Fathers of the Staple."
06. Corners precisely rounded to a 3/8" (9.5mm) radius with a Challenge SCM double round-corner machine.
07. Checklist Journals: 19 items per page. Date Books: one week per page.
08. Memo book dimensions are 3-1/2" × 5-1/2" (89mm × 140mm).
09. FIELD NOTES uses only the Futura typeface family (Paul Renner, 1927) in its materials.
10. All FIELD NOTES memo books are printed and manufactured in the U.S.A.
11. UPC: 858493003646