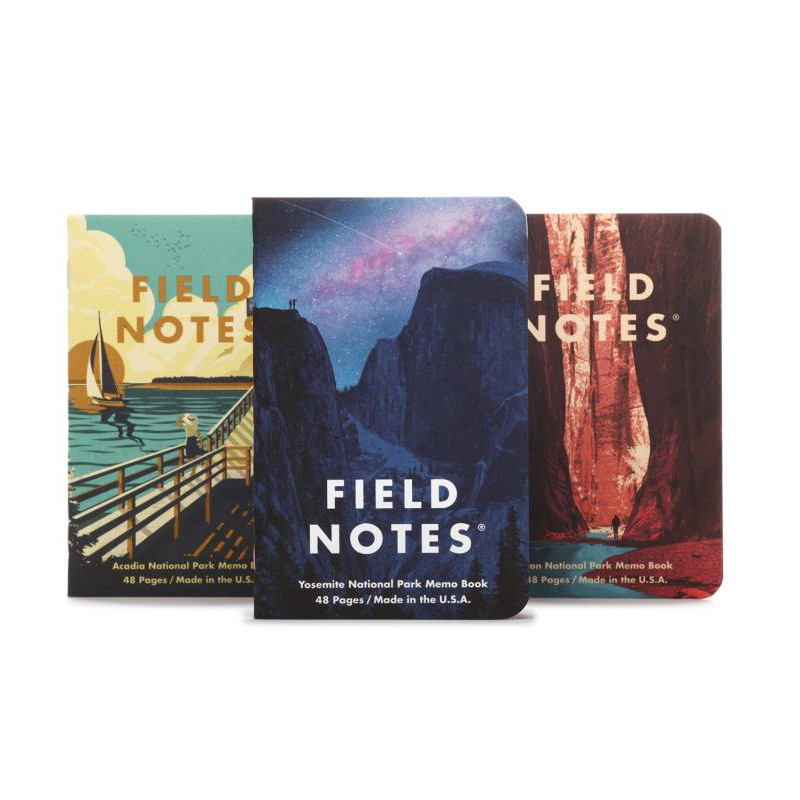  
Field Notes National Parks Series A (Summer 2019)
Series A. Graph Paper 3.5" x 5.5" 48 Pages.

Delivery policy
Options presented upon check-out for 1-3 day delivery
BRAND NEW SEALED. Unfortunately it seems the humidity of PH isn't friendly on the brass and copper staples. There's light corrosion on the staples, not heavy but it is there. For personal use I believe this "aging" shouldn't be an issue. This information is provided to properly disclose the 'brand new' condition.
Set of 3 Memo Books per pack. Graph Paper, 3.5" x 5.5", 48 pages each.
This order is for the SERIES A, 3-PACK.
Includes Yosemite National Park and Zion National Park, both by Dan McCarthy, and Acadia National Park by Telegramme Paper Co.

FROM FIELD NOTES:

Four 3-Packs, Twelve Parks

Since the early days of Field Notes we have been searching for just the right way to create an edition celebrating America's National Parks. When we saw the work of the artists of The Fifty-Nine Parks Print Series, we knew exactly what to do. We're proud to present this collaboration and invite you to check out four 3-Packs and millions of acres of American treasure.

Gorgeous illustrations of twelve iconic National Parks are featured on the covers of twelve Memo Books, which are grouped into the four 3-Packs that make up the "National Parks" Series. Choose your favorite 3-Pack, or collect them all.

A Step Backwards

The covers are printed on a variety of colored 100-lb. cover stocks from the French Paper Company of Niles, Michigan, using a custom, five-color process that started with under-printing white ink. This allowed us to incorporate the color of the paper into the artwork. The illustrative styles, the printing process, and the copper staples recall the heritage, and archival promotional materials and publications, of the National Park System.

Each book features a brief history of the park on its inside back cover, a spot for the official National Park Passport Stamp on the inside front cover, and 48 pages of Finch Opaque 60#T marked with a 3/16" graph to record your plans, routes, notes, and memories.

The Artists:

Yosemite & Zion - Dan McCarthy
Acadia - Telegramme Paper Co.
Grand Canyon - DKNG Studios
Joshua Tree - The Little Friends of Printmaking
Mount Rainier & Sequoia - Glenn Thomas
Rocky Mountain - Rory Kurtz
Great Smoky Mountains - Chris Turnham
Yellowstone - Brave the Woods
Grand Teton - Eric Nyffeler
Arches - Nicolas Delort
Sequoia - Glenn Thomas

SPECIFICATIONS:

01. Proudly printed by the good people of eDOC Communications, Mount Prospect, Ill.
02. Cover: A variety of French 100#C papers, some with a few burly hits of opaque white under process cyan, magenta, yellow, and black soy-based Toyo inks.
03. Cover printed in two passes through a Heidelberg Speedmaster XL 105 40" 6-color printing press.
04. Innards: Finch Paper Opaque Smooth 60#T "Bright White," with a fine, 1-color application of "Green Earth" soy-based Toyo ink.
05. Bound with a Heidelberg Stitchmaster ST 270 5-pocket saddle stitcher.
06. Corners rounded to a 3/8" (9.5mm) radius with a Challenge round-corner machine.
07. Graph grid: 3/16" x 3/16" (4.7mm x 4.7mm).
08. Memo book dimensions are 3-1/2" x 5-1/2" (89mm x 140mm).
09. FIELD NOTES uses only the Futura typeface family (Paul Renner, 1927) in its materials.
10. All FIELD NOTES memo books are printed and manufactured in the U.S.A.
11. FNC-43a Yosemite, Acadia, Zion UPC: 858493003813
12. FNC-43b Grand Canyon, Joshua Tree, Mount Rainier UPC: 858493003820
13. FNC-43c Rocky Mountain, Great Smoky Mountains, Yellowstone UPC: 858493003837
14. FNC-43d Grand Teton, Arches, Sequoia UPC: 858493003851