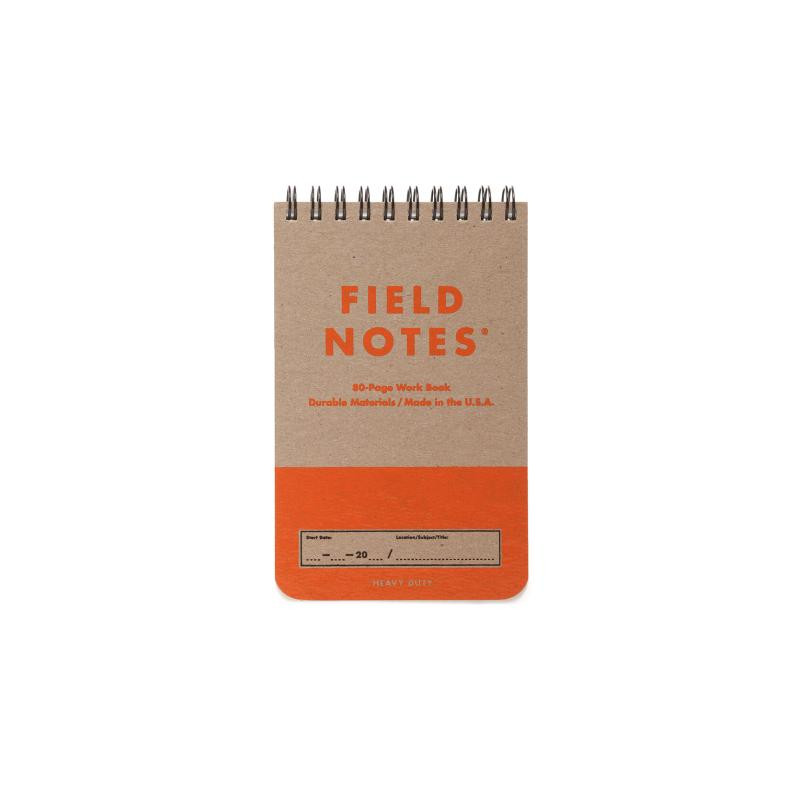  
Field Notes: Heavy Duty (Summer 2020)
Memo-Sized Work Book 2-Pack. 3.5" x 5.5" Ruled & Double Graph Grid Paper.

Delivery policy
Options presented upon check-out for 1-3 day delivery
Condition: Brand New. Sealed.
Memo-Size Work Book Set of 2.
3.5" x 5.5" Ruled & Double Graph Grid Paper
80 Pages.
Introducing our Seasonal Release for the Summer of 2020, the "Heavy Duty" Edition. Each pack contains a pair of memo-sized Work Books, durable enough for your toughest assignments.
The covers are made of extra-beefy "Super Duty Chipboard" and have been screen-printed with thick, opaque ink, one in DDC Orange and one in Blue Sky Blue. The "flip" books are bound from the top with sturdy Double-O Wiring, to make it easy to take notes with one hand while holding the book with the other. Each book contains 80 pages, Ruled on the front with a Double Graph Grid on the back, so you'll have space for making lists and for sketching out plans too.
SPECIFICATIONS:
01. Proudly printed by the good people of Schneider Graphics, Inc., Bensenville, Ill.
02. Covers: Newark Paperboard Mills 60 pt. "Super Duty Chipboard," with a heavy 2-color application of "DDC Orange" or "Blue-Sky Imagineering" and black inks.
03. Innards: Finch Paper Opaque Smooth 70#T "Bright White," with a fine, 1-color application of "The Whole Sky is a Cloud" soy-based Toyo ink.
04. Covers printed on an Advance Process Supply Cameo 34" × 50" flat bed screen press. Innards printed on a 20" × 29" Heidelberg Speedmaster 74 with perfector.
05. Bound with bombproof Renz "Double-O" Ring Wire, with appreciation to U.S. Patent #2142816, filed in 1935 by W. Walter Grumbacher.
06. Corners precisely rounded to a 3/8" (9.5mm) radius.
07. Ruled lines: 1/4" (6.4mm). Double Graph grid: 1/8" × 1/8" (3.2mm × 3.2mm).
08. Work Book dimensions: 3-1/2" × 5-1/2" (89mm × 140mm) (excluding binding).
09. FIELD NOTES uses only the Futura typeface family (Paul Renner, 1927) in its materials.
10. All FIELD NOTES memo books are printed and manufactured in the U.S.A.
11. UPC: 858493003905