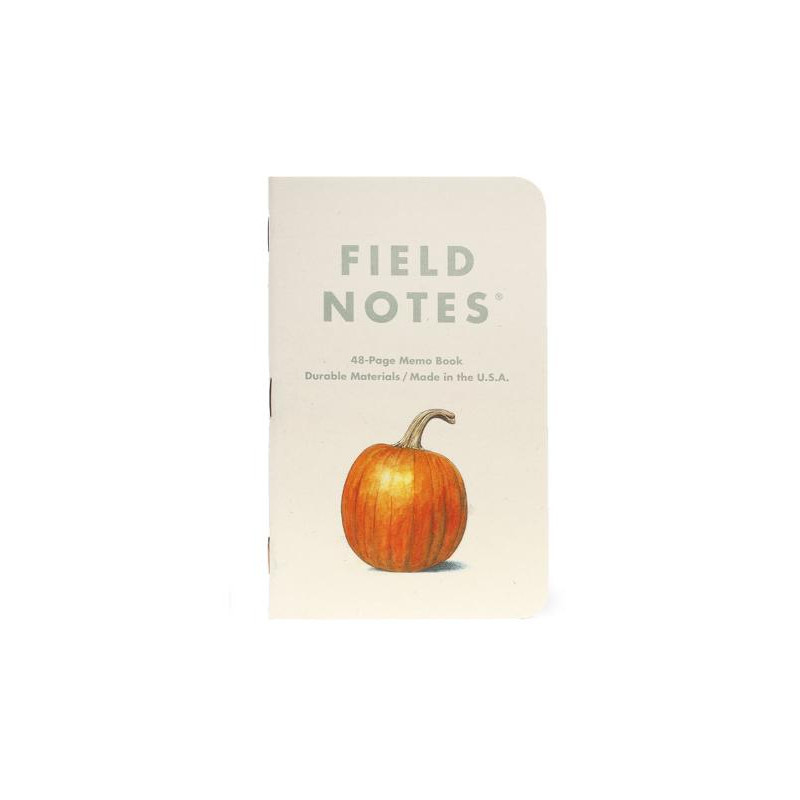  
Field Notes: Harvest Pack A (Fall 2021)
3.5" x 5.5" 48 Pages 3-Pack B. Perforated Ruled Dot Ledger. Pack A includes Pik-a-Pie Pumpkin, Rainbow Chard, and Mountain Gold Tomato.

Delivery policy
Options presented upon check-out for 1-3 day delivery
CONDITION: BRAND NEW
3.5" x 5.5" 48 Pages 3-Pack B

Perforated Ruled Dot Ledger™
Ripe for the Picking

Appropriately launched on the Autumnal Equinox, our limited release for the Fall of 2021 is the "Harvest" Edition. Noted American artist John Burgoyne's illustrations grace the covers of the six Memo Books in this series, featuring fruits and vegetables commonly harvested in the Fall.
Impressions

The illustrations are embossed into a new – and perfect for this edition – cover stock. Mohawk's "Renewal" line uses rapidly renewable resources. We've selected their "Fiber White," which is made from hemp fiber blended with post-consumer paper waste and responsibly sourced virgin fibers. This lovely and sturdy cover stock takes the embossing beautifully and makes the most of John Burgoyne's delicate ink-and-watercolor technique.

John's intricate and instantly recognizable illustrations regularly appear in Cook's Illustrated, National Geographic, and other publications. We visited him on Cape Cod and had a chat about his work and career.
The colorful back covers feature planting instructions, a map, and a brief description of each of the six crops.
The 70#T Finch Fine "Soft White" interior pages are an all-new design as well: the "Ruled-Dot-Ledger" format works great for list-making, diagrams, or, or just plain old Autumnal notes and observations. To make it easy to share your recipes, planting bed diagrams, and grocery lists, "Harvest" features perforated pages (video). Three brass staples bind it all together.

It has taken us twelve years to produce a harvest-themed Fall release. You could say it took awhile for the idea to crop up.
SPECIFICATIONS:
01. Cover illustrations by American artist John Burgoyne, johnburgoyneillustration.com
02. Proudly printed by the good people of Active Graphics, Cicero, Ill.
03. Cover: Mohawk Renewal Hemp 120#C "Fiber White" Rough, with a brute force application of process-color soy-based Saphira inks.
04. Innards: Finch Fine 70#T "Soft White," with a gentle 1-color application of "Harvest Green" soy-based Saphira ink and inline perforations.
05. Cover and innards printed (and perforated) on a Komori Lithrone S40 40" 6-color offset printing press.
06. Bound with a Heidelberg Stitchmaster ST 270 5-pocket saddle stitcher with appreciation to Samuel Slocum, George W. McGill, and William J. Brown, the "Founding Fathers of the Staple."
07. Corners precisely rounded to a 3/8" (9.5mm) radius.
08. Perforated Ruled Dot Ledger™ lines: 1/4" (6.4mm).
09. Memo book dimensions are 3-1/2" × 5-1/2" (89mm × 140mm).
10. FIELD NOTES uses only the Futura typeface family (Paul Renner, 1927) in its materials.
11. All FIELD NOTES memo books are printed and manufactured in the U.S.A.
12. Pack A includes Pik-a-Pie Pumpkin, Rainbow Chard, and Mountain Gold Tomato. UPC: 850032279031