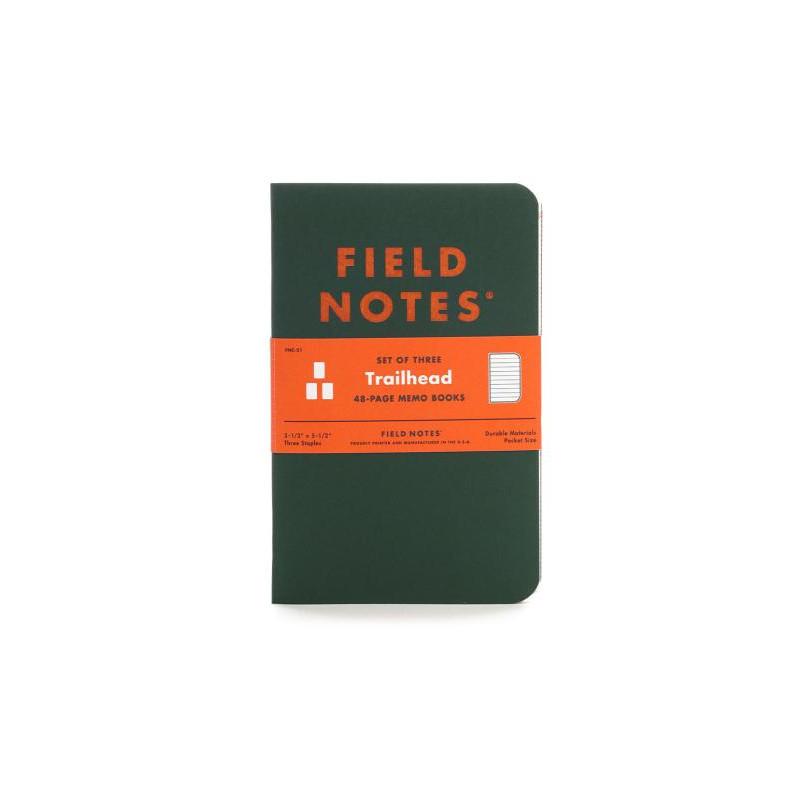  
Field Notes: Trailhead (Summer 2021)
Three Great Paths. Ruled Paper, 3.5" x 5.5", 48 Pages, 3-pack.

Delivery policy
Options presented upon check-out for 1-3 day delivery
CONDITION: BRAND NEW
Ruled Paper, 3.5" x 5.5", 48 Pages, 3-pack.
Our limited release for the Summer of 2021 is the hiking themed "Trailhead" Edition. Wherever your personal journey leads you, use these Memo Books to make your plans and record your adventures.
Whether you're starting at the Canadian border and thru-hiking the 3,100-mile Continental Divide Trail, trekking from Glacier National Park in Montana to the Big Hatchet Mountains of New Mexico, or just taking an evening stroll through a local park, we hope you will find this edition a useful companion.
Sturdy forest-green linen covers with an application of orange Crown Foil surround 48 Ruled "vanilla" pages, and they're bound together with orange staples. As we've seen with previous releases, the linen covers are quite durable and they age beautifully. Each of the books features one of America's "Big Three" hiking trails: The Pacific Crest, Continental Divide, and the mighty Appalachian.
SPECIFICATIONS:
01. Proudly printed by the good people of Lake County Press, Inc., Waukegan, Ill.
02. Cover: Neenah Royal Sundance Linen 80#C "Emerald Green," with thick, brute-force applications of "Opaque White" soy-based Toyo UV ink and Crown 81285 matte foil.
03. Flysheet: Neenah Environment 70#T "Grocer Kraft" with a fine application of "Opaque White" and "Forest Green" soy-based Toyo inks.
04. Innards: Finch Paper Opaque Smooth 60#T "Vanilla," with a fine application of "Blaze Orange" and "Double Knee Duck Canvas Light Brown" soy-based Toyo inks.
05. Printed on a Heidelberg Speedmaster XL 105 40" 6-color UV printing press.
06. Bound with a Heidelberg Stitchmaster ST 270 5-pocket saddle stitcher with cover feeder/scorer and Rima RS 10S in-line stacker.
07. Corners precisely rounded to a 3/8" (9.5mm) radius with a Challenge DCM double round-corner machine.
08. Ruled lines: 1/4" (6.4mm).
09. Memo book dimensions are 3-1/2" × 5-1/2" (89mm × 140mm).
10. FIELD NOTES uses only the Futura typeface family (Paul Renner, 1927) in its materials.
11. All FIELD NOTES memo books are printed and manufactured in the U.S.A.
12. UPC: 850032279000