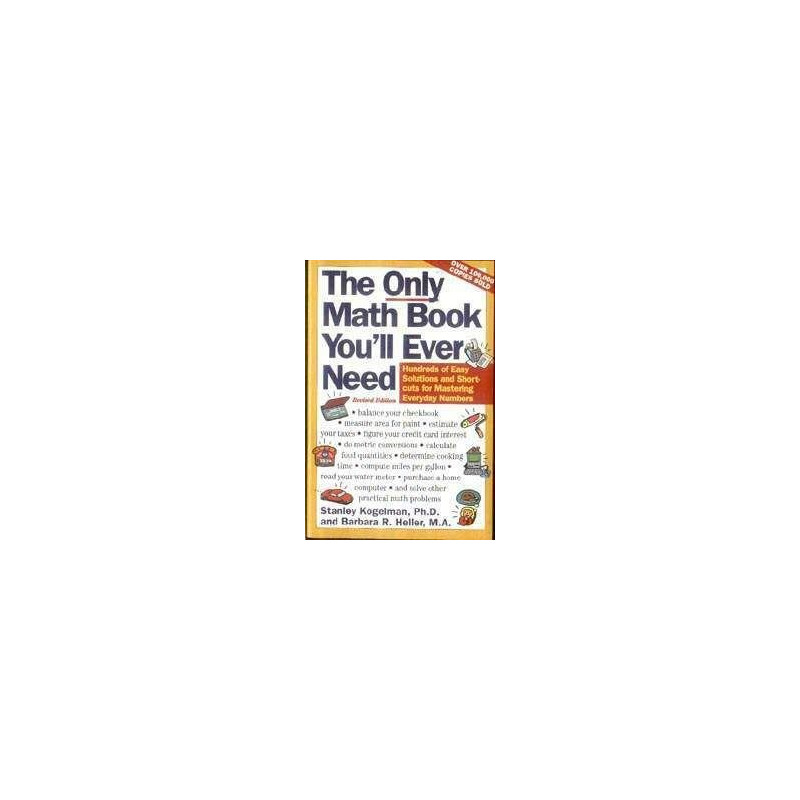  
The Only Math Book You'll Ever Need
1994 edition. By Stanely Kogelman and Barbara R. Heller.

Delivery policy
Options presented upon check-out for 1-3 day delivery
Format: Trade paperback

Condition: good+ condition, minor shelf/aging wear

Size: 5.25"x8.0"

Pages: 268pp, 1994 edition

In straightforward language, The Only Math Book You'll Ever Need walks you clearly and painlessly through a variety of common math problems. From estimating the amount of paint needed to cover the bedroom walls to balancing your checkbook, this book is indispensable, enjoyable and easy to use.

Here are the math problems you're most likely to encounter conveniently arranged in three sections:

The Mathematics of Personal Finance is all about handling your money- from earnings and taxes to computing simple and compound interest. Investments are also covered, including time deposit certificates, stocks and bonds, tax-deferred annuities, mortgages and credit cards.

Outdoor Math covers topics such as eating out, sales tax and markups and discounts on clothes and appliances. A chatper on foreign travel helps you convert units of currency, temperature, measure and electricity. Under hobbies, games and gambling, you'll find out how to adjsut the f-stop on your camera and compute odds and probabilities.

Indoor Math takes you into the kitchen with recipe conversion, timing recipes and unit pricing. Home improvement shows you how to compute area and buy paint. "Utility" math explains how to read your gas and electric meters and your phone bill. A section on home computers tackles the question of what they do and who needs one.

This completely revised edition includes all of the material in the original version updated to ensure that all the facts are current and that all the ideas about how to do math reflect the newest thinking.