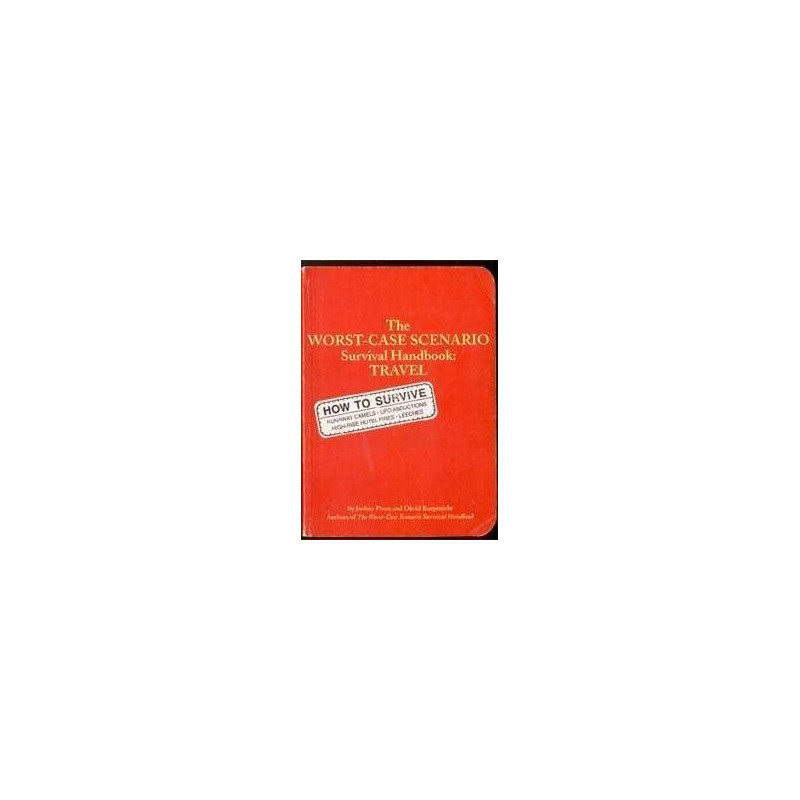  
The Worst-Case Scenario Survival Handbook: Travel
By Joshua Piven and David Borgenicht. Authors of The Worst-Case Scenario Survival Handbook

Delivery policy
Options presented upon check-out for 1-3 day delivery
Format: Trade paperback

Condition: vg- condition, minor shelf wear

Size: 5.0"x7.0"

Pages: 192pp, 2001 edition

Be very, very afraid. When you step through your door for an innocent excursion, grave danger awaits. You might be mugged; tied up; attacked by scorpions, piranhas, or tarantulas; trapped in a falling plane or elevator, a runaway train, a car on a cliff, a sandstorm, a riptide, or a riot. But now it's safe to take that vacation anyway. Just pack The Worst-Case Scenario Survival Handbook: Travel, and you'll know what to do when you find yourself, say, leaping between rooftops: "Because you will not be moving fast, it is safe to roll head over heels, unlike jumping from a moving vehicle." Now you'll also know what not to do: never pick up a tarantula, as the spines on their abdomens are like little harpoons, and don't yank the reins of a runaway camel ("Pulling on the nose reins can tear the camel's nose- or break the reins"). You may have the sense, if a leech invades your air passage, to gargle with a 50 percent solution of 80-proof alcohol--but without this book, would you remember not to inhale?

In short, this is the most delightfully terrifying, all-true, laugh-out-loud hilarious book since the original Worst-Case Scenario Survival Handbook, which covers such horrors as alligators and quicksand. Don't leave home without it!

Includes:

How to Stop a Runaway Passenger Train
How to Stop a Car with No Brakes
How to Crash-Land a Plane on Water
How to Survive an Airplane Crash
How to Survive a Riot
How to Survive a Hostage Situation
How to Pass a Bribe
How to Foil a Scan Artist
How to Foil a UFO Abduction
How to Lose Someone Who Is Following You
How to Jump from Rooftop to Rooftop
How to Jump from a Moving Train
How to escape froma Car Hanging over the Edge of a Cliff
How to Escape When Tied Up
How to Escape from the Trunk of a Car
How to Survive in a Plummeting Elevator (you don't jump at the last second...)
How to Survive When Lost in the Jungle
How to Find Your Way without a Compass
How to Navigate a Minefield
How to Survive When You Fall through Ice
How to Survive a Volcanic Eruption
How to Purify Water
How to Survive a High-Rise Hotel Fire
How to Build a Shelter in the Snow
How to Survive a Sandstorm
How to Survive a Tsunami
How to Catch Fish without a Rod
How to make Animal Traps
How to Treat a Severed Limb.. and many more!!